Mobile Application
When it comes to mobile apps , you should take a fresh look at brand awareness. You ask why? Let's answer this question with a completely different question that is quite powerful. In the ever-evolving world, how effective is it to identify your brand or company solely through your website? How many people do you think prefer to use computers instead of phones? Let's even expand on these questions and customize them: If it were you, the mobile applicationDo you prefer to order/receive service from them, or do you prefer websites that we cannot figure out how reliable they are? No, no need to worry! Of course, your well-designed sites are also important platforms that will support your corporate identities. But don't you think it is a much smarter method to make the business a little bigger, especially by using technology in this way?
Anticipating your answers and even other questions you might ask; In this article, we will touch on topics such as what is a mobile application , why do we need a mobile application , and even what should be taken into consideration when developing a mobile application . We will also help you to have a detailed but summary knowledge in this field by including other additional questions such as what are mobile application development technologies and languages . Don't forget to read the rest of the article for all this and more!
As Ajans360, we; As with all the services we offer , we are pleased to be with you and provide you with professional support in this regard. You can visit the relevant pages on our website for our sample projects and detailed information.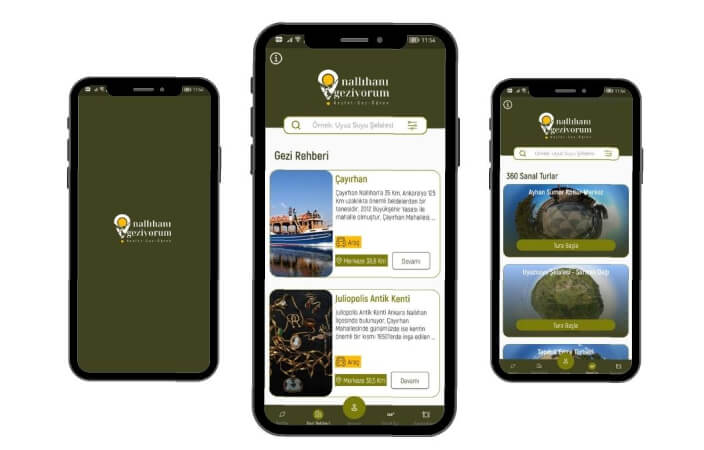 What is a Mobile Application?
Nowadays, almost everything has been transferred to smart devices. In this sense , mobile application designs are software that provide indirect services especially for brands and companies. What is meant by indirect service here should be considered not only on the basis of brands and companies, but also in terms of reaching the potential target audience. In short, we can say that these mobile applications designed specifically for brands or companies essentially enable the sharing of services or products.
Additionally, as you know, Apple, as a brand, offers mobile applications through the App Store on devices running the iOS operating system. Many other brands with Android operating systems use the Play Store. Therefore, mobile applications may vary depending on application publishing areas. However, even very large foreign companies, which can be considered among the companies that make the best mobile applications today , know that this detail is brand / company specific. Therefore, when it comes to applications, the main and first goal should be to create an effective strategy rather than reaching the potential audience. An effective and well-thought-out strategy will bring the potential audience to your doorstep.
Why Do We Need a Mobile Application?
Mobile application advantages are not limited to just the user or just the brand. It is possible to talk about many benefits that nourish both groups. At this point, you can follow the relevant items through the list below.
Users spend 70% of the time they spend on smart devices on applications. Therefore, directing the attention of the potential audience to the brand will be faster thanks to the mobile application.
According to research, the majority of users find mobile applications more practical and accessible than websites.
In addition, mobile applications allow brands to spread the events, discounts, content and campaigns they create more quickly and effectively.
In addition, 80% of e-commerce is defined through mobile devices. For this reason, applications contribute to increasing brand awareness, especially for brands that want to expand their digital marketing network.
Finally; Through Flutter, created by Google and used as an open software development kit, the development potential of brands is confirmed with forward-looking guidance.


What Should Be Considered When Developing a Mobile Application?
Mobile application development is not the product of a single branch or advertisement. As in every field, development in the digital field is in the share of commerce but also specific to the person / brand. Therefore, the first point you should pay attention to when developing your mobile applications is originality! Although most brands seek to find a mobile application agency for their company for some inexplicable reason , the basis here is how aware the found agency is of the originality in question. Briefly; It is not a person or institution that will support development, but a professional team with awareness of originality.
However, originality is not the only thing to consider when developing an application. You can also learn other tips from the items below.
It is important that your application is available on both iOS and Android.
You should do a competitor analysis and create your own plan.
You should focus on creating forward-looking strategies, not just saving the moment.
You must create space to save time and energy for both users and yourself.
Instead of following standard patterns, you should get up-to-date windows that are open to innovation.
You should not see your application as just a single screen, and you should evaluate the existing demands on your application.
You should pay attention to users' feedback.
You should be aware of new and popular trends that will increase interaction.
You should follow the agenda and focus on the solution rather than the problem.
You should avoid choosing a complex design for your application.
You must create a simple, understandable and effective platform.
What are Mobile Application Development Technologies and Languages?
When it comes to application development technologies; Undoubtedly, the first question that comes to mind is what are Dart and Flutter ? However, in this article, we do not intend to go only with the option of having a mobile application made . Therefore, we will also talk about other mobile application languages. However, let's talk about the Flutter kit first.
What is Flutter(-link to be added-) is a software development kit, also known as SDK. It was launched by Google and offers tools to develop your application on both iOS and Android platforms. In the other category, it helps you use the interface components of your application more comfortably. Dart appears as a programming language. Both iOS and Android compatible applications have been made possible with the Dart language through Flutter.
Apart from this, there are also different known programming languages. The 5 programming languages most preferred by mobile application developers are as follows.
Java:It is a Google-supported programming language and many applications on the Play Store are created with Java. However, it can be difficult and complicated for new users.
Python:This programming language generally does not support native development on Android. However, it is also known that this problem can be solved with various convertible vehicles.
C#:This programming language, which has similar features to Java, is supported by Microsoft. Although it is not as challenging as Java, it can create some difficulties for new users.
Kotlin:It is generally compatible with all iOS, Windows and Android applications and uses a single code base. However, when necessary, program-specific code requests may arise.
C++:Finally, this programming language appears as the native development kit on Android. However, it is known to be more complex in terms of installation. It is also a bit more challenging in terms of flexibility.
How to Publish a Mobile Application?
We have shared with you all the necessary basic information on the subject. Okay, but let's get back to something more specific: How to publish a mobile application ? Let's answer this basic question and satisfy any curiosity that the previous programming languages ​​may create in your mind.
Making a mobile application does not consist of a single step or stage. Therefore, a single initiative or analysis will not be sufficient. A solid strategy is the first thing your brand will need, even if it's on the app. Therefore, you should identify your problem, create a hierarchy of needs, and make sure you use a unique structure. Next, you should obtain information that will advance the digital part of the business or work with an agency that will carry out this part on your behalf. As Ajans360, we will be offering you a quality service at this point. However, if you wish; However, let's consider this part in three main parts:
App creation is often a conversion process within your brand or company's website. This is different from a direct copy; It is possible with an original design and creating a strategic service area.
Testing is as important as creating the application. Because after the application is published, user experiences will be directly reflected in your sales and service area. For this reason, you need to create a solid, reliable and high-quality portfolio thanks to the application.
Publishing the Application
Publishing the application is the final stage. After reaching this stage, the installation is completed and your application is now available in markets such as Play Store and / or App Store.
Mobile Application Prices
Mobile application prices can appear in many different ways, based on many principles. For example; The platform on which it will be published, service area, design capacity and even timing strategies are factors that affect the price. However, since the main thing here is the unique identity that your brand or company needs, the first point to consider is your needs. However, if you want to know more precise figures to allocate an average budget, you can contact us. Ajans360, as an advertising agency that can bring design and software together with different values ​​but as a single whole; It will always protect your priorities. Do not forget to contact us using the information on the contact page on our website to get detailed information about the subject!