Logo and Brand Identity Design
Logo and brand identity design; It is a process in which visual design is carried out to differentiate a brand or organization from others. For institutions and brands, being uniqueis a very necessary detail in terms of coming together with the target audience. Logo and brand identity design, which can be seen as an important process in determining customer habits and influencing shopping preferences by prioritizing visual attention, is directly proportional to the success of the sector .
When internationally successful brands are mentioned, their logos immediately come to mind. This actually results from a properly executed design process. A company's logo and brand identity designs are the signature of that company. In order to be permanent in consumers' minds and to be remembered at the point of purchase, companies must have unique and easily remembered logos. With the logo and brand identitydesign service we offer as Agency 360, we prepare designs that best suit our customers' images and enable them to take the first step towards branding. At this point, we can talk about the importance of logo and brand identity design for companies.
The Importance of Logo and Brand Identity Design
Logo is the first and most important stage of corporate identity work. Logo designs consisting of text, pictures, geometric shapes or symbols have their own characteristics. In addition, consumers can obtain initial information about companies through logos. For this reason, we can say that logo and brand identity design plays a big role in a company's branding processand in the process of influencing the consumer afterwards.
Companies can easily differentiate themselves from their competitors thanks to their unique logo designs. This gives companies a great privilege in competition. For example, when consumers buy a biscuit from markets, they do not easily read the writings on it. The first thing that attracts the consumer's attention is the logo on the product's packaging. Logos are more memorable because they have a symbol and shape. When a consumer sees the logo of a brand that he/she has previously experienced and liked at the point of purchase, the probability of purchasing that product is extremely high. In short, a logo is a design that creates the name and identity of brands for customers.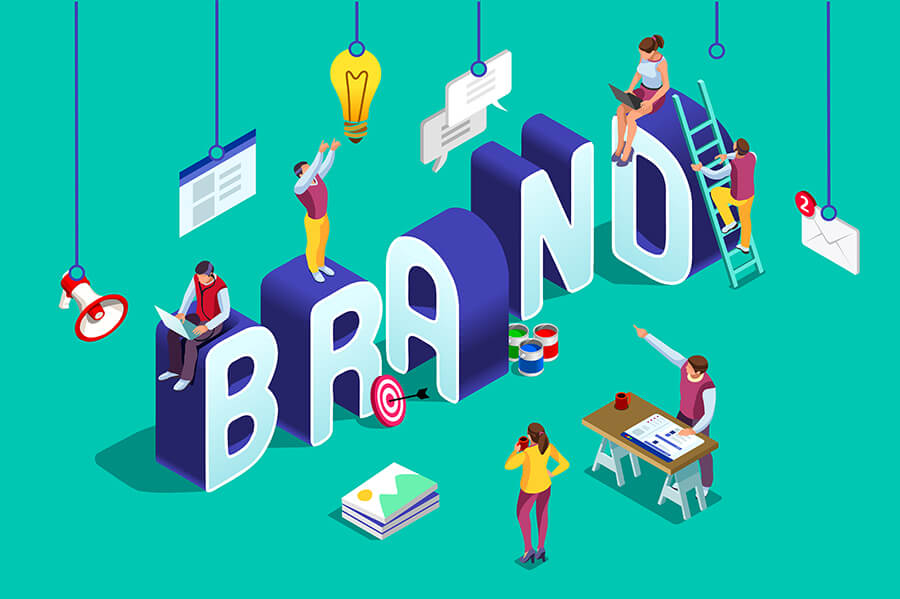 How Should a Successful Logo and Brand Identity Design Be?
In order to benefit from the above-mentioned advantages of logo and brand identity design, these designs must   be prepared accurately and professionally . So, what should a successful and correct logo and brand identity design look like?
For a successful logo and brand identity design and the use of the correct logo, the sector in which the company operates must first be researched. Logos containing small images related to the areas in which companies operate are extremely interesting. At this point, the best example that everyone knows is the logo of Ziraat Bank. Ziraat Bank  was first established to provide financial support to farmers. Accordingly, its logo includes a spike consisting of the letters Z and B. It is extremely important that your company is related to our institution's field of activity, just like the Ziraat Bank logo, which is an example of a very successful and clever logo.
Using only fonts in logos makes it difficult to remember. For this reason, there must be a symbol or emblem next to your logos. Because people's visual memory is much stronger and these symbols are easier to remember. Finally, for a successful and  memorable  logo, it is extremely important that colors be used in line with the image of your institution. For example, food companies often use the color red in both their packaging and corporate identity designs. Because everyone knows that red makes people hungry. If your company is a fun and dynamic brand and operates in these areas, more dynamic and vibrant colors should be preferred instead of colors such as black and brown.
As Agency 360, we know how to design a logo successfully and we carry out all our design processes this way. As Agency 360, we can detail our logo and  brand identity  design process as follows.
Logo and Brand Identity Design Process
In logo and brand identity design, a strategic plan is prepared by first analyzing the needs and characteristics of the companies.
Within the scope of this prepared plan, logo design work begins, using the most suitable colors and designs for the customer.
Logos are presented to the customer for approval with 7-8 different designs.
The customer sends us the revisions he wants and the new design is prepared and presented to the customer.
After the final approval is received, if the customer requests, corporate identity works are prepared and the logo is made ready for delivery.