What is QR Menu?
The rapid spread of developing technology affects many sectors. It has now become both faster and easier to review by phone rather than looking at pages of restaurant menus. In addition to keeping up with the times, integrating and using technology on a sectoral basis provides many advantages. QR code has also become a branch of these technological developments.
It is now possible to witness QR Menu being used in many sectors and fields . Because these QR codes are preferred especially by people using phones because they provide convenience. Since almost many smart devices' cameras or applications can detect QR codes, most people prefer to use them. QR codes can be used both to look at the menu when you go to a restaurant, and to learn more about a product . Q.R.codes are a type of barcode that can be scanned with any compatible smartphone, allowing users to access content or websites without typing URLs. It's easy for restaurants to offer digital menus, allowing customers to find out which food items are immediately available and even place orders instantly.
QR menus are incredibly easy to use. Customers must scan the code with their phone camera, which directs them to the restaurant's digital menu. These menus can include images, descriptions, and prices for each item so customers can quickly find what they are looking for. Once customers choose what they want to order, they can order using the restaurant's mobile app (if available) or website, and even securely pay in advance. In some cases, when customers use QR menus, restaurants may offer special deals or discounts, which is a great incentive for repeat business.
Especially when you open a new business, using this type of menu provides comfort for users and reinforces your awareness of the environment. Now, thanks to these menus, customers can quickly access the food they want, even without the presence of a waiter or busboy. QR menus are generally available in many developed countries and restaurants with good service . This is also among the frequently preferred services as it provides convenience to people while increasing customer satisfaction.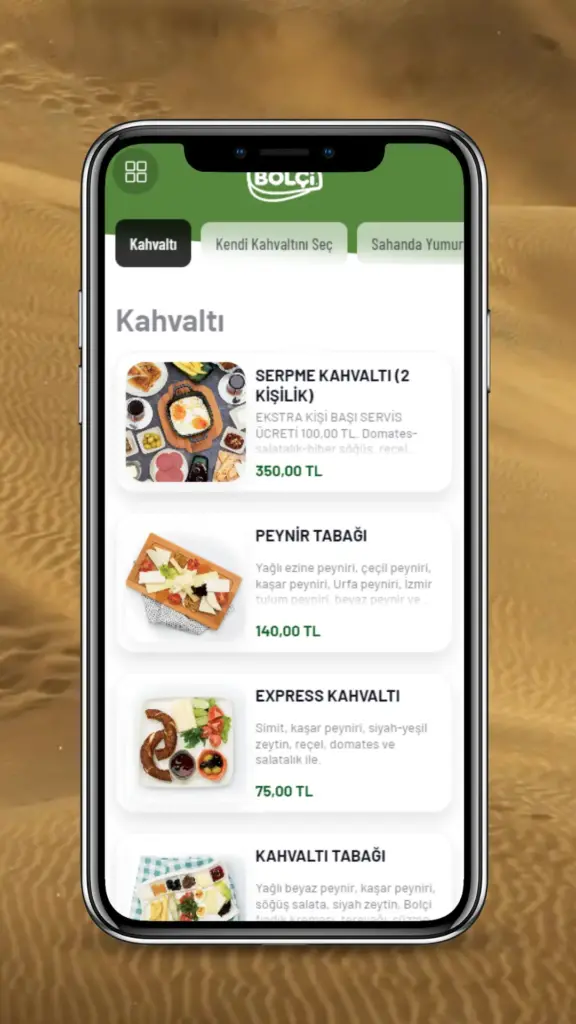 Advantages of QR Menu vs Traditional Menu
Of course, using QR Menu has many advantages over the traditional menu. Generally speaking, it can be stated that it contributes to the environment by reducing paper use. With so many people advocating for the environment, QR Menus can help restaurants go paperless. Your customer base appreciates this, and it's a great way to show that your restaurant is environmentally friendly. Plus, you don't need to print a new menu every week as you add new items, saving you time and money.
When you're running low on an item or want to add something new, it's easier to do so with a QR code menu than reprinting the entire menu. For example, if you run out of an item, click the button to mark it as unavailable. You can even add images and descriptions to new products to make it easier for customers to decide.
When you're too full to even take an order, having a QR menu helps streamline the process and increases customer satisfaction. Customers can scan the menu and order themselves. This means they don't have to wait in line or risk their food going cold while waiting for a waiter. In addition, your waiting times will decrease and customer satisfaction will increase, as they will be able to find what they are looking for quickly and easily.
With a restaurant menu QR code, waiters don't have to spend a lot of time explaining the menu or writing down orders. Restaurants can track what items were ordered, when they were ordered, and who ordered them. This is great when you need to review a customer's previous orders. In other words, instead of writing down the orders you receive one by one, QRThanks to the menu, you can save it successfully to your tablet or phone, so you don't have to keep it in mind. These codes, which are used to both increase customer satisfaction and accelerate service quality, are becoming widespread in many places. It is a technological development that can be encountered in every field where product description is needed, such as the clothing industry, especially in menus used in restaurants.
How to Create a QR Code?
Not every QR Menu code is a perfect square. Sometimes they have unique patterns, colors and logos in them. You can find them in non-digital spaces like direct mail, signage, billboards, and even TV shows where you can scan the code on the screen using your phone.
Both barcodes and QR codes can be scanned using a laser or smartphone, as long as the tool used has the right capabilities to read vertical and horizontal data. While creating QR codes, special internet programs can be used, or support can be requested from places that do this work.
What are the QR Code Prices?
Unlike creating a menu with paper, QR Menu is a much less costly and more useful method. It is a much simpler and easier method to update the QR code digitally rather than wasting paper many times. Therefore, costs vary depending on the number of QR codes to be created.
QR Menus are generally used differently than barcodes. QR codes can hold hundreds of times more encrypted characters than a barcode can. Rather than giving a page-long brochure, having QR coded menus scanned by customers is not only much more economical, but also provides the advantage of accessing a lot of different information. In particular, QR code prices can be affected by the menu, width, design, colors and the way it is scanned. However, since customer satisfaction and advertising are not involved, QR Menu prices are extremely reasonable. You can get service by requesting a QR menu code after establishing our businesses in order to both advertise and access quick information about our menus
How to Use QR Code?
If you're running Android 8 or later, you can scan a QR code by opening the camera app, pointing your phone at the QR code, and tapping the pop-up banner . If you don't see the pop-up banner, you can use the Google Lens app to scan the QR code instead.
QR codes work by arranging a series of black and white pixels in a unique pattern that encodes a sequence of data. When scanned, the pattern of the q-code can be converted into human-readable information. If you know how to scan a barcode using a laser reader, you already know how to scan a QR code – the only real difference is the type of device used to read the code. But unlike the linear arrangement of barcodes, QR codes can store much more data because they are written both vertically and horizontally. The QR code system, which provides more information about the business, also has the feature of being easily used with the help of a camera or application. camera, QR codeClicking on the link that appears when it is brought to the system and accessing it is sufficient behavior. If you encounter a customer with a mobile device that cannot detect the camera system, you can encourage them to enter through the application or give them the opportunity to open the menu from your own tablet and review it.
QR code is used when introducing the features of any product in detail or making presentations to customers. This technology, which has the ability to fit many different information on a single screen, is preferred by many sectors because everyone can use it. Even if nothing is written, you can access unlimited information by opening QR code systems on your phone. Many people want to open and read these code systems due to the increase in phone use, rather than reading the brochures included in the products they purchase. Therefore, in addition to keeping up with technology, it is also important to appeal to people's tastes and desires.
How to Scan a QR Code with Your Android Phone?
You can quickly and easily scan a QR code on your Android phone by using the built-in camera app and following a few simple steps,
Open your Camera app on your Android phone.
Hold your phone steady with the QR code in the middle of the screen.
Wait for your phone to recognize the QR code (you may hear a beep or feel a vibration).
If you see a notification, tap it to open the link associated with the QR code.
If you don't see a notification, go to your phone's Settings app and enable QR code scanning. Then try scanning the QR code again.
Scanning QR codes on your Android phone is a simple process that can be done in a few easy steps.
Now you can quickly and easily scan any QR code you come across on your Android phone. These codes on the menu can be easily scanned using both the phone camera and the application. In this way, almost everyone has the opportunity to easily review our menus when they come as a customer. When you use a technological development that appeals to everyone, it is possible to access our menus easily and increase satisfaction. Q.R.Codes can be created entirely over the internet or by downloaded applications. Many businesses prefer to use such applications because they are easy to use and easy to scan. At the same time, keeping up with technology makes the business's work easier. You can switch to these applications without wasting time.
What Should You Consider When Creating a QR Code?
You planned to implement it for customers in your business. It is necessary to pay attention to the things that will deliver your brand if you add them to menus with QR codes. In this way, customers can see the quality of your brand while choosing a meal. For this purpose, you can place your brand name and symbols on the page of the QR code menus you create. In addition, when placing symbols and brand names, you can increase the time spent looking at the menu and attract the attention of customers by using colors and images suitable for your concept. In this way, customers who will be able to make more choices from the menu will have the opportunity to examine it better and also be informed about the beauty of your brand.
When creating a menu with a QR code, you must first write the name of your cafe or business. Then, before entering the menu, you can take pictures of specific areas relevant to your venue and encourage customers to learn more about this subject. Then, providing brief information about your business in no more than 200 characters can reflect when we were founded or what kind of business you are. After passing this stage, you can write the address of your business and then switch to the menu system in your cafe.
After moving on to the menu section, the important part is to categorize separately which dishes people will prefer. In this way, those who will only eat can look at the food menus, while people who come to have a drink have the opportunity to review the menus in the beverage section. This also prevents customers from wasting too much time and increases their satisfaction as it allows them to find what they are looking for more easily. When creating a menu with a QR code, it is not enough to just write the introduction or menu content. You can also add short footnotes such as address or opening information to encourage customers to come back at the next time. In this way, people can know which days you are open and can adjust accordingly to ensure their next visit.
Advantages of Using Technology with QR Code
It has been mentioned many times that many businesses need to keep up with the rapid development of technology. Because many people use smart devices today, waiting times are shorter. Additionally, appealing to people's visual taste is an important issue to gain customers and make sales. When you switch menus to the QR system in your businesses, you will save paper and have the chance to intervene quickly in case of a possible update.
Paper saving can be cited as one of the advantages of QR code and its technological position. Instead of printing and using different menu styles over and over again, you can update our menus as many pages as you want via QR and upload images. In this way, people can make safer choices by accessing real food images that are impossible to have on the menu.
After adapting technology to every field, the increase in potential customers and the quality of the service you provide are also revealed. From here, people can see the prices of the food they choose and make a choice more easily by easily examining the ingredients. Especially QR code technology has spread to many areas recently. Thanks to these processes, which are used in the food industry and many other places, people can eat more safely and use their choices accordingly.
When you apply this coding system to the menus you create for good business and marketing, you will reach better potential during the time you appeal to customers. You can easily create a QR code by downloading this simple application. You can keep your meme tracks up to date according to customers' wishes. You can also use this coding system to display your campaigns and dynamically see how many people are viewing them. By creating a separate code for your campaigns, you can attract the attention of customers and make them come more often by continuing these campaigns for days. In this way, your sales will increase and your customers will come on campaign days and increase their satisfaction.
How to Create a QR Code Online?
To create a free QR code with your own computer or mobile phone, you must first find a suitable website and register. Afterwards, the functions of the site you registered with will be activated and you can start creating a QR code.
You can make progress in this way by selecting the QR code category that appears on the screen as you enter it to create the code. What content will you talk about first? You must indicate its site address, card information, your address and your application, if you have one, with a picture. Then, you write the link to your content in an empty space. After entering the content link, you can determine the color and frame shape of the police station presented to you and continue by selecting here. These QR codes, which are created quite simply, are downloaded to your phone or computer when the download button is pressed. You can access these QR codes you create from your device whenever you want. After creating your content, you can change the information recorded on the black code or add visuals.You can also save the QR code creation steps and download them to your mobile devices whenever you need them.